A big thank you to the entire Mercyhurst community who supported us on Giving Day 2017.
We are proud to say that over 25% of the donors from Giving Day were Mercyhurst employees! Their names are listed below and we are grateful for their support!
Alice Agnew
Sarah Allen
Jennifer Bach
Gregory Baker
Andrea Barnett
Phillip Belfiore
Missi Berquist
Christian Beyer
Douglas Boudreau
Mary Breckenridge
Jamie Breneman
Jeanette Britt
Gregory Brown
Bethany Brun
David Cherico
Nicholas Cianci
Sheila Coon
Susan Corbran
Hannah Cox
Stephanie Craig
Daniel Cullen
David Dausey
Gaetano Dipietro
Karen Donnelly
Alice Edwards
Verna Ehret
Thomas Forsthoefel
Kyle Foust
Betsy Frank
Lindsay Frank
Timothy Frawley
Donald Fuhrmann
Annette Gardner
Daryl Georger
Douglas Gifford
Adam Glass
Brad Gleason
Michael Grasso
Steven Gregg
Jeffrey Haft
Penny Hanes
Mary Hembrow Snyder
Nathan Hess
David Hewett
Jeremy Hewitt
Ryan Hill
Janice Hill
Dave Markley
Joanne Hosey-McGurk
Heidi Hosey-McGurk
Meaghan Hubert
Michele Hubert
Tom Hubert
Colin Hurley
David Hyland
Kristy Jamison
Patricia Jaskiewicz
Dyan Jones
Darci Jones
Julie Kiehl
Thomas Kitchen
Lori Krause
Charles Kuntz
Michael Lamm
Cariel Lewis
Travis Lindahl
Valerie Luebke
Lisa McCartney
Bradley McGarry
Megan McKenna
Thomas McKinnon
Thomas Merlino
Karen Meyer
Debbie Morton
Maureen Muckinhaupt
David Myron
Karen Niemla
Christopher Norris
Rebekah O'Connor
Courtney Olevnik
Caitlyn Padovano
Ryan Palm
Amy Parente
John Parente
Jenell Patton
Caleb Pifer
Susan Reddinger
Steven Reinhardt
Sheila Richter
Roy Ridondelli
Christina Riley-Brown
Leanne Roberts
Justin Ross
David Rubino
Rebecca Ruch
Matt Sanfilippo
Allison Seib
Brian Sheridan
Michael Sisti
Amy Skarzenski
Joseph Spano
Charlie Spano
Adrian Spracklen
Kathi Staaf
Jodi Staniunas-Hopper
Judith Stanley
Jane Stepherson
Beth Stokey
Roy Strausbaugh
Dionne Veitch
Michael Victor
Cindy Waidley
Steven Weber
Michael Wehler
William Welch
Michele Wheaton
Kolleen Woodcock
Peter Yaksick
Selin Yalcindag
Eileen Zinchiak
Laura Zirkle
---
---
---
---
Chef Meghan Mehler `94 will be hosting a "Laker Learn to Cook" during Reunion Weekend 2017! Check out this great article retrieved from the Erie Reader written by Marnie Mead. You can read the original link here: http://www.eriereader.com/article/the-cooking-school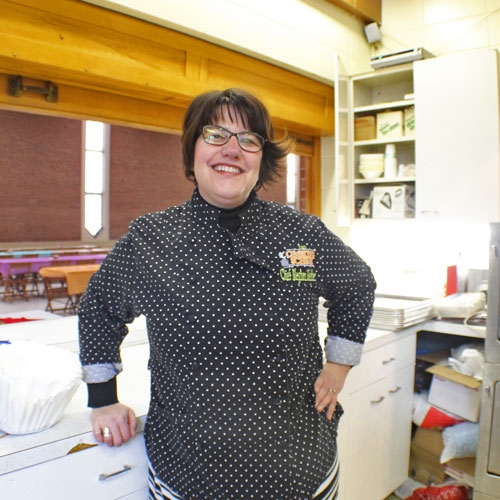 Have you ever wanted to learn to cook, but didn't know where to start? Or maybe you just want to invite a few friends over for an amazing dinner, but the cupboards are bare, and so is your confidence in the kitchen.
If so, then Meghan Mehler can whip up just the recipe for a successful meal for you. Mehler is the owner of The Cooking School, a culinary education that comes to your kitchen. Or, if you just want to watch live "Food Network" in your home, she can do that, too.
"The options are endless as to what we can do," said Mehler, who gives private lessons, group lessons, family gatherings, theme dinners, and team-building exercises around food.
Mehler began The Cooking School in September, but has a long history in the culinary arts. She started in seventh grade serving and cleaning up after parties. By high school, she had her own catering business. She went to culinary school in Pittsburgh and transferred to Mercyhurst University, from which she graduated. She has worked at the Kahkwa Club, Aviation Club, and Hopper's Brew Pub (the latter two are now closed). She took the next 15 years off to focus on being a mother to Madeline and Jacob and wife to Jack Mehler.
"I entertained constantly," she added. "That's where I get to use food as my outlet."
Once Madeline and Jacob were independent, Mehler returned to Mercyhurst to teach. But she knew she had more to offer than university classes. She had partnered with her now-college-aged daughter in Venus Apothecaries and taught cooking classes at the now-defunct Frankie & May Fresh Grocer in Erie.
Until the summer of 2016, Mehler's path was about as clear as trying to figure out dinner in the middle of Wegmans – so many choices, so little direction. Working with a like-minded group of entrepreneurial women, Mehler was able to pick and choose her ideas to develop a fully cooked plan. She wanted to mix her passion for teaching with her love of cooking. She wanted to do it where people are most comfortable – in their own kitchens.
Since then, Mehler has brought The Cooking School to county government for lunch-and-learns, a bachelorette party, a birthday party, a travel group, and corporate team-building events.
The classes can be as hands-on as the participants want. If you just want to watch Mehler's expertise, then you can sit, sip, and watch. If you pay attention, you might pick up a tip or two.
The mix speaks to the broad range, and ages, of interest. The classes can be as hands-on as the participants want. If you just want to watch Mehler's expertise, then you can sit, sip, and watch. If you pay attention, you might pick up a tip or two. "Giving these tips adds to the whole experience," she said.
The "experience" is wholly yours. Together, you plan a personalized menu. A trip to Italy coming up? Get in the mood with a "Night in Italy." Mehler does all the shopping and brings the ingredients to your home to cook. One of the best parts? She cleans up afterward so there's no messy kitchen to contend with after your guests leave.
She can work in almost any kitchen, but like most chefs, will bring her own (sharp) knives.
For corporate events, the food is the centerpiece. But there's a side dish of growth and education. The idea has its foundation in her experience with Mercyhurst's food service management class. There, the students aren't trained to be chefs, but they do spend 15 weeks working in teams to understand all aspects of the restaurant service – from the kitchen to the front of house.
"I was looking at these kids learning off of each other," she said. "I saw an opportunity to take people out of the work space, and they have to work in ways they are not used to [in a kitchen]. It changes the way you look at and work with each other."
In other words, the boss may be terrific at setting timetables, but is terrible at getting a meal to table. An administrative assistant may not be able to make widgets, but can manage co-workers to prepare a meal in under 30 minutes.
"It's a different atmosphere than sitting in an office," she said.
In the next year, Mehler plans to dish up some pop-up experiences. She recently launched her website, thecookingschoolerie.com.
Contact Meghan Mehler and The Cooking School via email at chefmeghan@thecookingschoolerie.com, at thecookingschoolerie.com and on Facebook at The Cooking School.
Marnie Mead can be contacted at mmead@eriereader.com and you can follow her on Twitter @makeiterie.
---
Please click the button below to check the list to see who's coming to Reunion Weekend 2017 and to join us in conversation in our Facebook group!
---
For just $12 plus tax, you can join in on a great deal, the 2017 Dining Series presented by the Mercyhurst hospitality students. Each student that is involved is enrolled in a lab that plans, books and serves your meals.
To check out the dates and menus offered, view the PDF here: Marriott_Spring17
Reservations and special requests: leave a message after 9 a.m. M-F at 814-824-2565. A student assistant will return your call within 48 hours. Reservations may be made up to two weeks prior to date.
---
The Erie Diocese, on Friday, February 10, named the six Principals for the new Erie Catholic School System. We are proud to announce that three of the six Principals received their degrees from Mercyhurst University! They are: Violet Irene Kill, Allison Reynolds, and Jane Wagner.
Information and the full press release can be found below; originally retrieved from here: http://eriercd.org/pdf/principalsnamed.pdf
Principals named for new Erie Catholic School System
The Catholic Schools Office of the Diocese of Erie is pleased to announce the names of the principals who will lead each school as it launches the new Erie Catholic School System this summer.
They are: Violet Kill at St. Jude School; Lisa Norton at St. James School; Lisa Panighe i at Our Lady of Peace School; Allison Reynolds at St. George School; Julia Strzalka at St. Luke School; and Jane Wagner at Blessed Sacrament School.
Four of the six schools will have new leadership. Wagner is in her second year as principal at Blessed Sacrament School, and Norton is currently interim principal at St. James School.
"We are so pleased with this strong team," said Jim Gallagher, superintendent of schools for the Diocese of Erie. "Each new principal is prepared to create a school that is authentically Catholic and intellectually rigorous. Each principal also embraces our mission to form students who will help bring the presence of Jesus into the communities in which they live."
The principals will collaborate with Damon Finazzo, president of the Erie Catholic School System.
"I can't wait to begin working with these talented professionals," Finazzo said. "They each bring a passion for Catholic education, a diverse professional background and expertise, and a great love for children."
– more –
-2-
The Catholic Schools O ce has announced a series of "Meet the President and Principal Nights" to be held at St. Mark Catholic Center, 429 E. Grandview Blvd. Current and prospective parents are invited to a end one or more of the evenings as they nalize their enrollment decisions. Events are planned for 6 pm on each of the following dates: Monday, Feb. 13 for St. James School; Wednesday, Feb.15 for St. Luke School; Thursday, Feb.16 for Blessed Sacrament School; Tuesday, Feb.21 for St. Jude School; Wednesday, Feb.22 for Our Lady of Peace School and Thursday, Feb. 23 for St. George School.
Earlier this week the diocese named Finazzo as president of the Erie Catholic School System, and announced the rst members appointed to serve on its new board. Within the next two weeks, administrators and principals will begin accepting applications to ll the teaching positions at each school, an e ort they expect to complete by the end of May.
Information about the school system, a key component of Building in Truth and Love, the pastoral plan for Catholic schools in the Diocese of Erie, will continue to be updated at ChooseCatholicSchools.com.
A brief bio of each new principal follows.
Violet Irene Kill holds an MS in special education from Mercyhurst University, Erie; an ME in educational leadership from Wayne State University, Detroit, Mich.; and a BA in education from Western Michigan University, Kalamazoo, Mich. She earned her principal certi cation from Mercyhurst University, Erie. She has been an elementary and middle school educator since 1999. Her latest positions were at Villa Maria Elementary School and St. Peter Cathedral School, both in Erie.
Lisa Ann Norton holds a BS in elementary education from Villa Maria College, Erie, and a master's in administration from Ursuline College, Pepper Pike, Ohio. She is licensed in early childhood, elementary K-6 and as an elementary principal. Norton has taught at St. James School since 1982, and was named principal there at the beginning of the current school year.
Lisa Panighetti earned master of education degrees in both educational leadership and reading at Edinboro University, Edinboro, where she also received her BS in elementary education. She is certi ed as a reading specialist and as a principal, and earned supervisor certi cation in PK-12 as well as curriculum and instruction at Gannon University, Erie. She has taught in both public and Catholic se ings, and is currently principal at Our Lady of Mount Carmel School and St. Boniface School.
Allison Reynolds received her BA in elementary and special education at Mercyhurst University, Erie, and her master's in educational leadership from Edinboro University, Edinboro. She is certi ed in special education supervision and has both elementary and secondary principal certi cations. She has been working at the Robert Benjamin Wiley Community Charter School in Erie since 2008.
-3-
Julia Ann Strzalka earned a Bachelor of Music degree in music education from The Catholic University of America, Washington, D.C. She also holds a master's in education from Syracuse University, Syracuse, NY, and her principal K-12 certi cation from Edinboro University, Edinboro. She has taught in both public and private schools, and has served as principal at Seton Catholic School in Meadville since 2010.
Jane Wagner received her BA in education from Mercyhurst University, Erie, and an MA in educational leadership as well as principal certi cation from Edinboro University, Edinboro. She taught at the elementary and middle school level at St. John/Holy Rosary School in Erie from 1999-2011, followed by 4 years with the Erie RISE Leadership Academy Charter School in Erie. She became principal at Blessed Sacrament School in 2015.
###
---
We hope you've have a chance to see our latest t-shirt design. One reason why we love it is that there's something for everyone on the t-shirt – whether you went to Mercyhurst College 50 years ago or you're a parent of a current Mercyhurst University student today, the shirt simply has it ALL!
Because the shirt "has it all," there may be some images that some people do not know about. Here's our list of images and a little back story on each one!
From top left to right:
-Cummings Art Gallery – located in the Mary D'Angelo Performing Arts Center building, the Cummings Art Gallery, named for an amazing artist, Sr. Angelica Cummings (whose paintings are on display in Old Main), is an event space and gallery that displays student art work and work from community artists
-Joe Hep(finger) – a favorite neighbor and fan of the Mercyhurst Lakers. Joe is known for his amazing Laker spirit and is even a member of the Athletics Hall of Fame. The image reads Joe Hep, with a foam finger, to combine as Hep-finger for Joe's last name
-Sister Damien/Bell – the bell is famously known on campus as Sr. Damien, another loyal Laker fan's most prized possession. She was known for cheering on the Lakers and ringing her bell in support of the Laker athletic teams.
-Anchor DOWN – a favorite line used by Laker athletes to signify "giving it your all" and "anchoring down" to get the job done
-Lake WILLIAM – prior to Garvey Park being built, a small lake filled the space running between Baldwin Hall to Preston Hall. Lake Williams was drained when it came time to build Preston Hall and the space later became Garvey Park
-Louie the Laker – Mercyhurst's former mascot and uncle to current mascot, Luke. Louie was tragically lost in the great flood of the Student Union – he gave his all to Mercyhurst and unfortunately went down trying to save the Student Union
-kids & sibs – a fun weekend celebrated for many years each spring. Mercyhurst students are invited to bring their siblings to campus for a weekend to stay in the residence halls. Today, the kids and sibs concept is a part of Family Weekend
-LAKE SHOW – another term for athletics to use when referring to the amazing performances completed by our Laker athletes. When attending a Mercyhurst game/match/race, it's sure to be a show and a lot of fun to cheer on the Lakers
-Mercyhurst College logo – prior to becoming a University in 2012, Mercyhurst used this logo. The logo shows four M's and C's intertwined, symbolizing MC for Mercyhurst College
-Big Boy – in the 1970's a group of Mercyhurst male students were notorious for stealing the well known mascot statue of a local restaurant that was previously located near campus. The boys "kidnapped" the state and brought him to campus. A photo of the students with the statue can be found on the first floor hallway in Old Main
-Shamrock – a lucky symbol associated with Mercyhurst as we are known for and celebrate our Irish roots. The Sisters of Mercy, who founded of Mercyhurst, originated in Ireland, the home of Catherine McAuley, the foundress of the Sisters of Mercy
-Anchor – another symbol associated with Mercyhurst and our ties to the Lake (Mercyhurst and Erie are situated on the shores of Lake Erie). A campus anchor was also generously donated by the Class of 2016 as their Senior Class Gift
-Snowflakes – Erie, Pennsylvania is (for better or for worse) known as one of the snowiest cities in the country. The Erie snows will not stop the students of Mercyhurst – classes will most likely never be cancelled
Next row
-Graduation cap – a symbol for the goal of all Lakers, to succeed in their studies and complete their years at Mercyhurst with a walk across the stage at a Mercyhurst graduation ceremony. In the earlier years of Mercyhurst College, for special functions, the female students were also expected to wear a cap and gown (which we associate with graduations) to mark the occasion
-Canterbury Clock – a favorite spot on campus and a great photo op, the clock is located in the center of Garvey Park and chimes every hour, on the hour. In recent years, Christmas tunes play during December, and bagpipe sounds play on Hurst Day
-carpe diem – the motto of Mercyhurst University which translates to "seize the day"
-HURST DAY – an annual tradition brought to Mercyhurst by 12th President, Michael Victor. Each fall, a random and secret day is held where classes are cancelled; students are notified that it is Hurst Day with the sounds of bagpipes beginning at 7a.m. followed by a scavenger hunt and an afternoon of lunch, snacks, treats, and games and activities
-Old Main/O'Neil Tower – the original Mercyhurst. Old Main was built in 1926 and was later followed by the addition of the O'Neil Tower and Chapel. When pulling onto campus, one cannot help but feel captivated by its grandeur
-#LAKERPRIDE – a hashtag used to celebrate the pride one feels for being a Laker
-Cornerstone – a favorite local hangout for Mercyhurst students; known for its proximity to campus, its Mercyhurst decor, and its most popular night, Stone Wednesday
-Haunted Hurst spider – celebrated each fall near Halloween, students and the Mercyhurst community both celebrate Halloween and recall the popular ghost legends associated with Mercyhurst – some say the campus is haunted, many tales have been passed down from generation to generation about the ghosts that may or may not haunt the halls of MU
-The Laker Inn – once a local restaurant run by the students of Mercyhurst who studied hospitality management; today, the lower level of the Student Union uses the name and is a dining area for the MU community to enjoy
Next row
-Mercyhurst College logo (to the right of the clock) – a former Mercyhurst College logo used in the 1980s, known for its blue and green to honor the school's colors, the interlocking M and C can still be spotted around campus
-M – for Mercyhurst, of course!
-Briggs Ave – one of the streets in the upperclassmen housing area; Briggs Ave. is specifically a spot for many sophomores to live, a great entry into apartment living
Next row
-Lewis Ave – another street in the upperclassmen area, being further east than Briggs Ave., this street is where many juniors and seniors live in apartment buildings
-Garvey Park – a center space on campus, home of many activities, the Canterbury Clock, park benches, the Sr. Damien Bell, and a spot for sitting in the sun, eating lunch, studying, and some favorite celebrations such as Hurst Day and Springfest
-Audrey Hirt Academic Center – built in 2002, this building houses several academic programs and is a spot where many students have classes. Its green pointed dome top can be spotted from near and far
-Mercy Cross – Mercy's symbol is a contemporary version of the original cross which Catherine McAuley, founder of the Sisters of Mercy, adopted for her ministry. The outer extensions of the cross represent a ministry that is diverse but aligned around a common purpose, forming a cross-within-a-cross
-Gates/1926 – the gates of Mercyhurst can be found at the campus entry on East 38th Street. Welcoming all to campus, the gates are always open and have been a part of campus since 1950. The year 1926 stands for the founding year of Mercyhurst
-Ambassador jacket – founded in 1993, the Ambassador Club is one of the most well-known clubs on campus. Student Ambassadors who successfully complete the pledge process and are selected, are given a green jacket to wear while giving tours to prospective students and campus guests or while working at a special campus event
-That Thing You Do – a film starring Tom Hanks; in the movie, the band plays a small gig set at Mercyhurst College. An odd fact about the movie is that Mercyhurst's colors were depicted as maroon and gold…an unfortunate color combination for us Lakers, as those are the colors of our biggest rivals, the Gannon Knights
Next row
-Luke – the current campus mascot, also the nephew of former mascot Louie the Laker. Luke can be seen at campus events and athletic events cheering on the Lakers. Luke follows in his Uncle Louie's footsteps and came to Mercyhurst to take his place
-Pennant – a symbol to celebrate Laker spirit
-Glasses/lightning bolt – traditionally associated with the popular book and movie series, Harry Potter. Many Harry Potter fans, when coming to campus for the first time, cannot help but compare our beautiful buildings Hogwarts from Harry Potter
-Catherine McAuley signature – the beautiful signature of the foundress of the Sisters of Mercy
-Hurst Hawk – noticed on campus in recent years, the Hurst Hawk can be spotted flying around campus or sitting in a tree overlooking Garvey Park. His presence is very popular and many enjoy spotting the hawk on campus
-Mercy World – a way of life for Lakers. The way one feels when within the gates, a fun term to describe what its like to live and be a part of the Mercyhurst community
-Crazy Dave – a nickname for Mercyhurst alum, Dave Armstrong, Class of 1986. Dave is one of the very few individuals to be both a member of the Athletics Hall of Fame and a Distinguished Alumni Award recipient
-White fountain image – a silhouette of The Blessing, the fountain located in Munson Plaza, south of Garvey Park on campus
---
The class of 2017 is currently fundraising to leave a Coffee Bar for all future Lakers to enjoy in the Hammermill Library.
Friday, February 3 will mark 100 days left until graduation; check out the video below to hear from some seniors on what that means to them.
Gifts are being accepted in support of the Senior Class Gift. Please show your support by visiting hurstalumni.org/classof2017.
---