Thank you for your continued support of Mercyhurst – visit giving.mercyhurst.edu to make your gift to the Mercyhurst Annual Fund!
---
Article retrieved from: http://www.huffingtonpost.com/entry/an-interview-with-simon-arias_us_59b7035be4b0883782dec260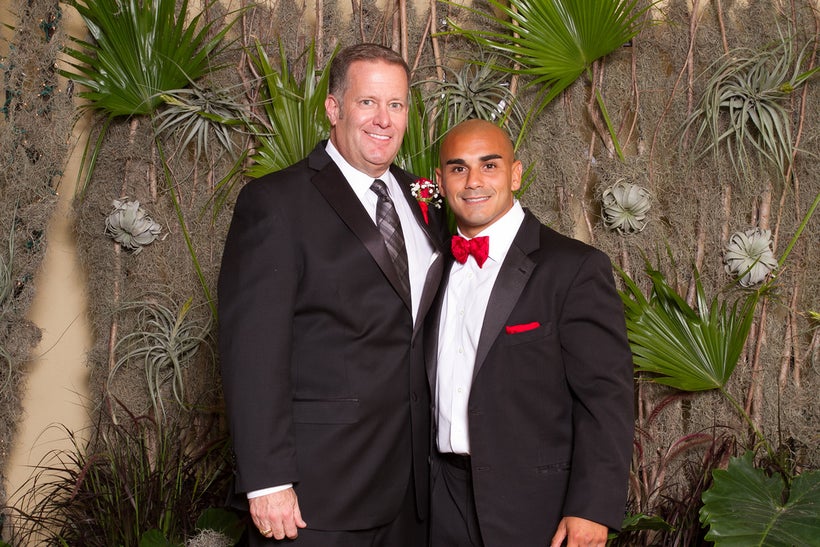 Yitzi: Hi Simon. Thank you so much for your time. What is your background? What is so unique about your story?
I grew up in Youngstown, OH, raised by a single mother who worked multiple jobs just to make ends meet. Growing up in Youngstown, there is a lot of negative influences that can impact a young mind & set someone on a course for failure. I initially got distracted with this lifestyle, getting involved with drugs & guns, and spending time in a juvenile detention center.
Fortunately, with the support of family and an early exposure to some positive mentors, I was able to break away from that culture. In high school, I found my place on the football field. Being an athlete gave me the channel I needed to focus my energy. It taught me the value of hard work & dedication, and it was my introduction into the thing I'm most passionate about to this day, leadership. My high school team went on to take the state championship, and I spent my college years as a starting safety at Mercyhurst University. I was captain of both my high school & college teams & it was this introduction to leadership where I first felt like I'd discovered my calling.
I think what's most unique about my story is the perspective that it has given me in life. From standing in welfare lines and being involved in destructive behavior, to becoming a multi-millionaire and leading others to better their lives. It's a perspective that not many people have.
Yitzi: That is incredible. How did you end up leading this company?
After graduating college, I knew I wanted a results-based career. My competitive nature and relentless work ethic would take me where I wanted to be, I just needed to find the right vehicle to apply it to. I received a phone call from Marcus Smith at American Income Life, and that's where I found the perfect opportunity. Once I was in the door, I became a sponge. I found mentors and implemented everything that they taught me.
At first, I set my goals on being one of the top salespeople & I quickly accomplished that. When I got into management, I fell in love with leadership. My new mission became developing others and helping them accomplish their goals. It's great to achieve personal success, but knowing that you've changed someone else's life for the better is what's most rewarding.
Within a few years, I opened Arias Agencies in Pittsburgh and have since expanded my business to be one of the top producing agencies internationally. We currently have twelve offices spread over five states, with plans for further expansion on the horizon.
Yitzi: When you started you were the David against many Goliaths. Today you are the Goliath. What was your strategy to "slay all those giants"?
Depending on what arena you're standing in, everyone is a player & everyone is a coach in some aspect of life. A player or a coach, a David or a Goliath, you have to know your role at any given time. I started as a player & did everything my coaches told me to. Coachability is one of the most important qualities that got me to where I am today.
There's an old quote about standing on the shoulders of Giants. That's what I did early in my career. Instead of slaying the giants, I stood on their shoulders. I found my mentors & did whatever was necessary to take me to the next level. I outworked others around me, stayed focused, and eventually found myself in a position where I was mentoring others.
Yitzi: What advice would you give to young entrepreneurs launching a startup?
You must understand the concept of "Pay Now, Play Later." When I'm coaching people on The GRIND, I'm always stressing that you must be willing to sacrifice. Get up early and outwork everyone around you. You have to throw out the idea of "Work-Life Balance." You can have average work-life balance your entire life, or you can do the hard work up front so that you can enjoy life in the long run. When you spend a few years working like others won't, you'll later have a life that most others can't.
It's just like constructing a building. In the early stages of building your business, if you're not working relentlessly on building the strongest foundation possible, everything is bound to crumble. Sacrifice creates opportunity. Find mentors and be 100% coachable.
Yitzi: How do you attract and retain high performance sellers?
First and foremost, we create a family culture & a fun atmosphere. We as people spend a lot of our time working, so it's important that we create an uplifting environment.
Secondly, it's important to take the time out to invest in your people. Not only in a business sense, but personally as well. You've got to add value to a person's life outside of business. I put a strong focus on enriching peoples' lives mentally, physically, and spiritually.
Lastly, 60% of production comes from the top 20% of the team. When you have a person making a special contribution to the business, you have to acknowledge that and treat them special. You have to recognize your top players and give them the ball.
Yitzi: Aside from bonuses, how do you incentivise strong performance among your sales reps?
Like I just mentioned, you have to recognize your top people and reward them. Beyond that, we are constantly running contests to keep the business fun & promote a competitive atmosphere. We've given away vacations, cars, watches, cash, you name it. We even make sure to structure our contests so that everyone, even a brand-new person who may not be performing on a top tier level yet, has a chance of winning our top prizes.
Yitzi: Your company has grown very quickly in 9.5 years. It is well known that it is important to grow a company organically. How did you know when it was time to grow? Why were you confident that it was not more than you can handle?
I always say that if you're not growing, you're dying. Initially and perhaps most importantly, I built the business with a strong foundation of leaders & support staff. I made sure that we had the people in place to support the growth that would eventually come.
Beyond that, I was financially conservative during the first few years. You have to live below your means in the early stages of business so that you have a reserve that can support any growth or expansion opportunities that comes your way. I had a financial cushion so that when the opportunity arose, I was able to reinvest heavily into my business.
Growth comes from duplication. You've got to spend time with your top players so that you can delegate down the road. You can't delegate unless you've properly duplicated, and you can't grow without delegation. There comes a point in growing your business where you have to trust others to get the job done and let them fly. In my experience, you have to grow with people and once you've duplicated yourself, you can let go, even if in your head you don't think it will be 100% to your liking, the job will get done if you've focused on duplication. Think of it this way, if you can duplicate 90% of yourself into ten people, 90% x 10 = 900%, when you'd otherwise only have 100% of yourself to give.
Most importantly, I've always kept my faith in God. I work on my relationship with the Lord consistently. In business, people tend to shy away from bringing up religion because it can be so polarizing, but I firmly believe that my faith in God has greatly contributed to my success. Whatever your spiritual beliefs may be, I encourage you to embrace and develop them consistently.
Yitzi: You have been voted as one of the top places to work at, in the Pittsburgh Post-Gazette. What have you done to create such a great company culture?
The greatest thing about the Post-Gazette Top Workplaces Awards is that they are based on anonymous employee feedback. It's a real validation of the effort we've put into making Arias Agencies the unique organization that we've come to be.
As to what we've specifically done to create the culture, it all relates back to what I previously mentioned about investing into your people. If I recall correctly, throughout your life, about 35% of your waking hours are spent working. If over a third of your life is going to be invested in your career, then you should create a career atmosphere that is rewarding in all aspects of your life, not just financially.
That's why we strive for a family atmosphere. Beyond the financial rewards & career stability, we invest in the people that make our organization thrive. All year long we have holiday parties, summer cook-outs, charitable events, gatherings at MLB & NFL games, basically anything we can do to make our environment fun and uplifting. We may spend a lot of our time grinding and growing our business, but we make sure to allot time to enjoy our lives together as well.
Yitzi: What are the best marketing strategies that you would recommend to someone starting a business?
Your best marketing strategy is, hands-down, personal word of mouth. In our current culture, that obviously includes social media. But even if social media disappeared tomorrow, what really matters in marketing is the impact you've had on other peoples' lives. If you're able to create something worth talking about, people will do your marketing for you.
Yitzi: You have been quoted as saying that you think a key reason for one's financial success comes because one gives back to the community. Why do you think that is so?
I spoke earlier on my relationship with the Lord. I believe that if the Lord sees I can be trusted with a little, he will bless me with a lot. Can I pass the test and be a good steward?
In proverbs it says, "A generous person will prosper; whoever refreshes others will be refreshed." It's the giving that dictates the getting. It's the simple concept of Karma. We've all heard "what goes around comes around" and it just seems that I've witnessed time and time again that when we give, in the long term, we end up being successful. Sometimes the success is direct, sometimes indirect, but I have personally witnessed the manifestation of good Karma and the rewards it has to offer.
---
A big thank you to the entire Mercyhurst community who supported us on Giving Day 2017.
We are proud to say that over 25% of the donors from Giving Day were Mercyhurst employees! Their names are listed below and we are grateful for their support!
Alice Agnew
Sarah Allen
Jennifer Bach
Gregory Baker
Andrea Barnett
Phillip Belfiore
Missi Berquist
Christian Beyer
Douglas Boudreau
Mary Breckenridge
Jamie Breneman
Jeanette Britt
Gregory Brown
Bethany Brun
David Cherico
Nicholas Cianci
Sheila Coon
Susan Corbran
Hannah Cox
Stephanie Craig
Daniel Cullen
David Dausey
Gaetano Dipietro
Karen Donnelly
Alice Edwards
Verna Ehret
Thomas Forsthoefel
Kyle Foust
Betsy Frank
Lindsay Frank
Timothy Frawley
Donald Fuhrmann
Annette Gardner
Daryl Georger
Douglas Gifford
Adam Glass
Brad Gleason
Michael Grasso
Steven Gregg
Jeffrey Haft
Penny Hanes
Mary Hembrow Snyder
Nathan Hess
David Hewett
Jeremy Hewitt
Ryan Hill
Janice Hill
Dave Markley
Joanne Hosey-McGurk
Heidi Hosey-McGurk
Meaghan Hubert
Michele Hubert
Tom Hubert
Colin Hurley
David Hyland
Kristy Jamison
Patricia Jaskiewicz
Dyan Jones
Darci Jones
Julie Kiehl
Thomas Kitchen
Lori Krause
Charles Kuntz
Michael Lamm
Cariel Lewis
Travis Lindahl
Valerie Luebke
Lisa McCartney
Bradley McGarry
Megan McKenna
Thomas McKinnon
Thomas Merlino
Karen Meyer
Debbie Morton
Maureen Muckinhaupt
David Myron
Karen Niemla
Christopher Norris
Rebekah O'Connor
Courtney Olevnik
Caitlyn Padovano
Ryan Palm
Amy Parente
John Parente
Jenell Patton
Caleb Pifer
Susan Reddinger
Steven Reinhardt
Sheila Richter
Roy Ridondelli
Christina Riley-Brown
Leanne Roberts
Justin Ross
David Rubino
Rebecca Ruch
Matt Sanfilippo
Allison Seib
Brian Sheridan
Michael Sisti
Amy Skarzenski
Joseph Spano
Charlie Spano
Adrian Spracklen
Kathi Staaf
Jodi Staniunas-Hopper
Judith Stanley
Jane Stepherson
Beth Stokey
Roy Strausbaugh
Dionne Veitch
Michael Victor
Cindy Waidley
Steven Weber
Michael Wehler
William Welch
Michele Wheaton
Kolleen Woodcock
Peter Yaksick
Selin Yalcindag
Eileen Zinchiak
Laura Zirkle
---
---
---
---
Chef Meghan Mehler `94 will be hosting a "Laker Learn to Cook" during Reunion Weekend 2017! Check out this great article retrieved from the Erie Reader written by Marnie Mead. You can read the original link here: http://www.eriereader.com/article/the-cooking-school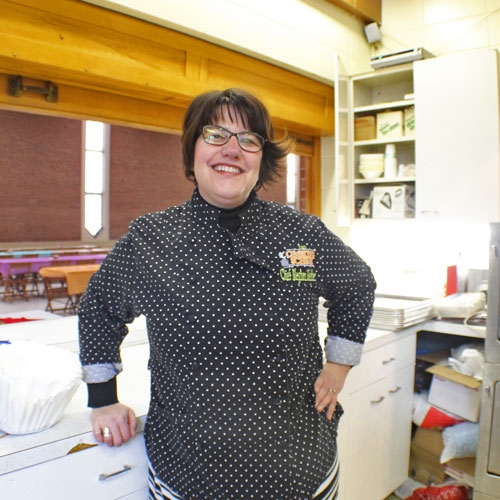 Have you ever wanted to learn to cook, but didn't know where to start? Or maybe you just want to invite a few friends over for an amazing dinner, but the cupboards are bare, and so is your confidence in the kitchen.
If so, then Meghan Mehler can whip up just the recipe for a successful meal for you. Mehler is the owner of The Cooking School, a culinary education that comes to your kitchen. Or, if you just want to watch live "Food Network" in your home, she can do that, too.
"The options are endless as to what we can do," said Mehler, who gives private lessons, group lessons, family gatherings, theme dinners, and team-building exercises around food.
Mehler began The Cooking School in September, but has a long history in the culinary arts. She started in seventh grade serving and cleaning up after parties. By high school, she had her own catering business. She went to culinary school in Pittsburgh and transferred to Mercyhurst University, from which she graduated. She has worked at the Kahkwa Club, Aviation Club, and Hopper's Brew Pub (the latter two are now closed). She took the next 15 years off to focus on being a mother to Madeline and Jacob and wife to Jack Mehler.
"I entertained constantly," she added. "That's where I get to use food as my outlet."
Once Madeline and Jacob were independent, Mehler returned to Mercyhurst to teach. But she knew she had more to offer than university classes. She had partnered with her now-college-aged daughter in Venus Apothecaries and taught cooking classes at the now-defunct Frankie & May Fresh Grocer in Erie.
Until the summer of 2016, Mehler's path was about as clear as trying to figure out dinner in the middle of Wegmans – so many choices, so little direction. Working with a like-minded group of entrepreneurial women, Mehler was able to pick and choose her ideas to develop a fully cooked plan. She wanted to mix her passion for teaching with her love of cooking. She wanted to do it where people are most comfortable – in their own kitchens.
Since then, Mehler has brought The Cooking School to county government for lunch-and-learns, a bachelorette party, a birthday party, a travel group, and corporate team-building events.
The classes can be as hands-on as the participants want. If you just want to watch Mehler's expertise, then you can sit, sip, and watch. If you pay attention, you might pick up a tip or two.
The mix speaks to the broad range, and ages, of interest. The classes can be as hands-on as the participants want. If you just want to watch Mehler's expertise, then you can sit, sip, and watch. If you pay attention, you might pick up a tip or two. "Giving these tips adds to the whole experience," she said.
The "experience" is wholly yours. Together, you plan a personalized menu. A trip to Italy coming up? Get in the mood with a "Night in Italy." Mehler does all the shopping and brings the ingredients to your home to cook. One of the best parts? She cleans up afterward so there's no messy kitchen to contend with after your guests leave.
She can work in almost any kitchen, but like most chefs, will bring her own (sharp) knives.
For corporate events, the food is the centerpiece. But there's a side dish of growth and education. The idea has its foundation in her experience with Mercyhurst's food service management class. There, the students aren't trained to be chefs, but they do spend 15 weeks working in teams to understand all aspects of the restaurant service – from the kitchen to the front of house.
"I was looking at these kids learning off of each other," she said. "I saw an opportunity to take people out of the work space, and they have to work in ways they are not used to [in a kitchen]. It changes the way you look at and work with each other."
In other words, the boss may be terrific at setting timetables, but is terrible at getting a meal to table. An administrative assistant may not be able to make widgets, but can manage co-workers to prepare a meal in under 30 minutes.
"It's a different atmosphere than sitting in an office," she said.
In the next year, Mehler plans to dish up some pop-up experiences. She recently launched her website, thecookingschoolerie.com.
Contact Meghan Mehler and The Cooking School via email at chefmeghan@thecookingschoolerie.com, at thecookingschoolerie.com and on Facebook at The Cooking School.
Marnie Mead can be contacted at mmead@eriereader.com and you can follow her on Twitter @makeiterie.
---
Please click the button below to check the list to see who's coming to Reunion Weekend 2017 and to join us in conversation in our Facebook group!
---
For just $12 plus tax, you can join in on a great deal, the 2017 Dining Series presented by the Mercyhurst hospitality students. Each student that is involved is enrolled in a lab that plans, books and serves your meals.
To check out the dates and menus offered, view the PDF here: Marriott_Spring17
Reservations and special requests: leave a message after 9 a.m. M-F at 814-824-2565. A student assistant will return your call within 48 hours. Reservations may be made up to two weeks prior to date.
---
The Erie Diocese, on Friday, February 10, named the six Principals for the new Erie Catholic School System. We are proud to announce that three of the six Principals received their degrees from Mercyhurst University! They are: Violet Irene Kill, Allison Reynolds, and Jane Wagner.
Information and the full press release can be found below; originally retrieved from here: http://eriercd.org/pdf/principalsnamed.pdf
Principals named for new Erie Catholic School System
The Catholic Schools Office of the Diocese of Erie is pleased to announce the names of the principals who will lead each school as it launches the new Erie Catholic School System this summer.
They are: Violet Kill at St. Jude School; Lisa Norton at St. James School; Lisa Panighe i at Our Lady of Peace School; Allison Reynolds at St. George School; Julia Strzalka at St. Luke School; and Jane Wagner at Blessed Sacrament School.
Four of the six schools will have new leadership. Wagner is in her second year as principal at Blessed Sacrament School, and Norton is currently interim principal at St. James School.
"We are so pleased with this strong team," said Jim Gallagher, superintendent of schools for the Diocese of Erie. "Each new principal is prepared to create a school that is authentically Catholic and intellectually rigorous. Each principal also embraces our mission to form students who will help bring the presence of Jesus into the communities in which they live."
The principals will collaborate with Damon Finazzo, president of the Erie Catholic School System.
"I can't wait to begin working with these talented professionals," Finazzo said. "They each bring a passion for Catholic education, a diverse professional background and expertise, and a great love for children."
– more –
-2-
The Catholic Schools O ce has announced a series of "Meet the President and Principal Nights" to be held at St. Mark Catholic Center, 429 E. Grandview Blvd. Current and prospective parents are invited to a end one or more of the evenings as they nalize their enrollment decisions. Events are planned for 6 pm on each of the following dates: Monday, Feb. 13 for St. James School; Wednesday, Feb.15 for St. Luke School; Thursday, Feb.16 for Blessed Sacrament School; Tuesday, Feb.21 for St. Jude School; Wednesday, Feb.22 for Our Lady of Peace School and Thursday, Feb. 23 for St. George School.
Earlier this week the diocese named Finazzo as president of the Erie Catholic School System, and announced the rst members appointed to serve on its new board. Within the next two weeks, administrators and principals will begin accepting applications to ll the teaching positions at each school, an e ort they expect to complete by the end of May.
Information about the school system, a key component of Building in Truth and Love, the pastoral plan for Catholic schools in the Diocese of Erie, will continue to be updated at ChooseCatholicSchools.com.
A brief bio of each new principal follows.
Violet Irene Kill holds an MS in special education from Mercyhurst University, Erie; an ME in educational leadership from Wayne State University, Detroit, Mich.; and a BA in education from Western Michigan University, Kalamazoo, Mich. She earned her principal certi cation from Mercyhurst University, Erie. She has been an elementary and middle school educator since 1999. Her latest positions were at Villa Maria Elementary School and St. Peter Cathedral School, both in Erie.
Lisa Ann Norton holds a BS in elementary education from Villa Maria College, Erie, and a master's in administration from Ursuline College, Pepper Pike, Ohio. She is licensed in early childhood, elementary K-6 and as an elementary principal. Norton has taught at St. James School since 1982, and was named principal there at the beginning of the current school year.
Lisa Panighetti earned master of education degrees in both educational leadership and reading at Edinboro University, Edinboro, where she also received her BS in elementary education. She is certi ed as a reading specialist and as a principal, and earned supervisor certi cation in PK-12 as well as curriculum and instruction at Gannon University, Erie. She has taught in both public and Catholic se ings, and is currently principal at Our Lady of Mount Carmel School and St. Boniface School.
Allison Reynolds received her BA in elementary and special education at Mercyhurst University, Erie, and her master's in educational leadership from Edinboro University, Edinboro. She is certi ed in special education supervision and has both elementary and secondary principal certi cations. She has been working at the Robert Benjamin Wiley Community Charter School in Erie since 2008.
-3-
Julia Ann Strzalka earned a Bachelor of Music degree in music education from The Catholic University of America, Washington, D.C. She also holds a master's in education from Syracuse University, Syracuse, NY, and her principal K-12 certi cation from Edinboro University, Edinboro. She has taught in both public and private schools, and has served as principal at Seton Catholic School in Meadville since 2010.
Jane Wagner received her BA in education from Mercyhurst University, Erie, and an MA in educational leadership as well as principal certi cation from Edinboro University, Edinboro. She taught at the elementary and middle school level at St. John/Holy Rosary School in Erie from 1999-2011, followed by 4 years with the Erie RISE Leadership Academy Charter School in Erie. She became principal at Blessed Sacrament School in 2015.
###
---