Heidie and Russ Ciesielski are at the helm of two schools; Heidie is the principal at AGS Middle School in Fenton, MI and Russ is currently interim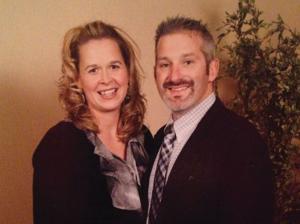 superintendent and will later return to his duties as principal of Linden High School.
The couple met while attending Mercyhurst, Heidie a volleyball player, and Russ a hockey player. They have two children, Maxwell and Madelyn who find "going to the Principal's office" not so bad, considering the Principals are mom and dad!
Information for this blog post was retrieved from an online article, you can read the full story at: http://www.tctimes.com/living/the-life-of-mr-and-mrs-principal/article_276ca952-4675-11e5-9781-8ba82cc4bb0d.html
---
J
ames Downing `15 graduated from Mercyhurst in May and is already seeing his hard work paying off. He created an app that combines social media with a puzzling aspect. Users can solve puzzles in the app's database or they can take a picture and it will puzzle it and send to friends! The app also has a statistics section to keep track of top friends and user averages.
James explained that his studies in the Intelligence Studies program here at Mercyhurst helped him a lot throughout the process of developing the app. He was well prepared from the rigor of the Intelligence Studies program to balance studies, jobs, and the app all during his senior year.
His course work also helped him to get a better understanding of the apps database – specifically from his Database Management class that he took last year.
He also had experience with start-ups because he previously began and ran social media accounts for an intelligence website started by Hurst alumni Spencer Vuksic and Graham Westbrook called leksika.org.
He has come a long way and the app has now turned into much more than a "side project".
You can learn more about James' app online and even download here: https://itunes.apple.com/us/app/picswitch/id979596988?ls=1&mt=8
Great work, James, lots of great things to expect from the Class of 2015, our newest Mercyhurst alumni!
---
Recently, two Mercyhurst Ice Hockey alumni were in the news for career successes.
Meghan Agosta-Marciano `10 has been using her degree in criminal justice and minor in psychology in her field. She recently completed a 10-month academy and is working as a police officer with the Vancouver Police Department. Read the full story on Meghan's hockey background and new position with the VPD here: http://www.thehockeynews.com/blog/why-hockeys-top-female-player-walked-away-to-become-a-cop/
Neil Graham `10 another former Lakers star has been named the head coach and director of hockey operations for the Idaho Steelheads. He is the youngest Head Coach in Steelheas history and also the youngest bench boss currently in the ECHL. Read the full story of Neil's new spot with the Steelheads here: http://www.scrippsmedia.com/kivitv/news/Steelheads-announce-new-coach-321057521.html
---
Game On! From home runs to half-court shots, the Lakers assembled their best-ever year in 2014-15.
By: Scott Koskoski `00
As I exited Erie Insurance Arena after Mercyhurst's undergraduate commencement on Sunday, May 17, the crack of a bat quickly got my attention. Right next door, at Jerry Uht Park, the Laker baseball team was playing Millersville University for the NCAA Atlantic Regional Championship, with a first-ever trip to the College World Series on the line.
The perfect balance of academics and athletics, I thought.
Well, the "#LakeShow" did prevail that Sunday, advanced to the World Series, and ended up finishing 4th nationally among all NCAA Division II teams. The Lakers' performance was just one of a myriad of fantastic finishes for Mercyhurst teams in 2014-15, one that deserves an alumni standing ovation.
The men's soccer team advanced to the regional finals. The men's tennis team took out the No. 1 team in its region and advanced to the "NCAA Sweet 16" in Arizona. Speaking of sweet, the Laker men's basketball team earned its first-ever NCAA Tournament berth and after all these years, finally put on its dancing shoes. The women's rowing team, no stranger to success, brought home a national silver medal. And after a bleak 0-4 start, the Mercyhurst football team rattled off seven straight victories, including a come-from-behind win over Slippery Rock at Michigan Stadium, to finish 7-4.
Add it all up, and Mercyhurst Athletics finished 2014-15 in 15th place among more than 250 Division II schools in the annual Learfield Sports Directors Cup – the program's highest-ever finish.
And as if that's not enough, the Lakers captured the highest Academic Success Rate in the Pennsylvania State Athletic Conference for the second year in a row. (The PSAC includes our archrival school just a few blocks away in downtown Erie, so there's yet another victory!)
Wow! As Frank Sinatra might say, it was a very good year.
Mercyhurst Laker student-athletes deserve our attention and praise. Athletes comprise nearly 25% of our traditional undergraduate population, and between the Erie and North East campuses, more than 800 men and women are proud to don the Kelly Green and White. And not only are our Lakers good at sports, but they're good sports too, contributing more than 2,000 hours' community service to Erie-area organizations this year.
Head to the official online home of the Lakers, www.HurstAthletics.com, and bookmark the site for information, schedules and when the Lakers are next playing a game near you. Better yet, join me and become part of the Laker League, the official support organization for Mercyhurst Athletics. You can choose your giving level, and no matter the size of your gift, you'll qualify for some pretty cool Laker swag.
Talented student-athletes, dedicated coaches and a bit of Irish luck all combined to produce our most memorable year yet. There's only one way to know if 2015-16 will top it – get to a game, be loud, be proud, and Go Lakers!
---
A few alumni have been making great strides in their fields…congratulations to these Lakers on their recent accomplishments!
Louis D'Ambrosio `99, a vice principal at William A. Diggs Elementary School, was names the 2015 Charles County Public Schools Vice Principal of the Year! He has a bachelor's degree in elementary education and a master's degree in special education, both from Mercyhurst University.
Read the full story here: http://www.thebaynet.com/articles/0615/dambrosio-named-2015-vice-principal-of-the-year.html
William McGahee `01, assistant principal of North Hills High School will become the principal of Ross Elementary, the largest elementary school in the North Hills School District. He has a bachelor's degree in English from Mercyhurst University and a principal's certificate and master's degree from Slippery Rock University.
Read the full story here: http://triblive.com/neighborhoods/yournorthhills/yournorthhillsmore/8548103-74/principal-board-mcgahee#axzz3d8LnkmvK
Jennifer Mobilia `03, News10NBC anchor and reporter, will be taking over as the host of Roc City Tonight on News10NBC at 7p.m. and also the co-anchor position on News10NBC at 11p.m. After graduating from Mercyhurst, her career has taken her through Buffalo NY, Ft. Myers, FL, and Providence, RI.
Read the full story here: http://www.whec.com/news/stories/S3824209.shtml
---
MARNIE MILLER '15 – Sociology
Marnie graduated May 17, 2015 from Mercyhurst University with a Bachelor of Science degree in sociology.
She was born and raised in Erie and is the youngest of eight children.  She is also the only college graduate in her family – and she's the baby.  Her young adult life was anything but easy.  She was abused and burned and had gasoline poured on her and was set afire by the father of her children.  Scarred, and a recovering addict she was placed in a religious school which she says saved her life.
When her youngest son entered 9th grade she decided it was time to begin her college education.
"I believe in the power of education. I did this for me, but of course also to show my children that you can do anything you set your mind to."
Marnie will tell you Mercyhurst has been the most amazing time of her life.  "Coming back to school as an adult student, every need was met from academic advisors to Learning Differences to the administration and staff.  I had the opportunity to travel to Washington, DC with Dr. Joe Morris and Dianne Rogers and other students to attend President Obama's second inauguration. I can't tell you how much encouragement I have received from everyone on campus."
"I am a starter but not always a finisher.  I learned integrity at Mercyhurst and I apply it to my life daily.  Mercyhurst and the scholarships I received are the reason I finished my degree.  My final course was fully paid for by a scholarship.  If it wasn't for the scholarships I would not have been able to make it at all.  AT ALL."
"Mercyhurst has defined who I am and have become.  My goal in life is to be an educated well-spoken woman who can reach out to others with similar backgrounds, pay it forward and make a difference.  By the grace of God and Mercyhurst University I am on my way."
——-
We didn't want to miss you this year.  Our year ends Sunday, May 31, 2015.
It's not too late to support the endowed scholarships at Mercyhurst.  All gifts, no matter what size will help students like Marnie Miller achieve her dreams.  Can we count you as a loyal alumni?
Thank you.
Carpe Diem.
---
Congratulations to our newest alumni! We want to be sure that you'll remain connected for years to come. To do this, please fill out the short form below:
---
Giving Day was a huge success – because of YOU!
We'd like to extend our gratitude to everyone who participated in our first annual Giving Day. Because we all came together to show our support and pride of Mercyhurst, Giving Day was a success.
What's even better is that no area of the Mercyhurst community was unrepresented in Giving Day. Alumni, trustees, parents, employees, and friends all joined in – Together, the Mercyhurst community can do great things!
An unofficial count from yesterday brings us to 348 donors and $57,203. We have heard from a number of supporters that they are sending checks, those will be added to the totals later this week.
Again, we thank you for your support of Mercyhurst University – May 5 was surely a great day to be a Laker!
---
Project Director, Bayfront East Side Taskforce
This Mercyhurst University grad isn't afraid to look at things differently. "It's easy for people to associate the East Side with crime and decay, but as a resident and employee in the East Bayfront, I see a different picture – one of vibrancy and community." That vision, says the woman who's notched bachelor's degrees in both criminal justice and sociology and is now working on her master's in social administration with a concentration in community practice for social change at Case Western Reserve University,  is one worth sharing with Erie. When Paige isn't at the Bayfront East Side Taskforce, endeavoring to transform the Historic East Bayfront into a neighborhood of choice for individuals, families, and businesses, she can be found either spending time enjoying two of her favorite things in life – cats and craft beer – or "throwing down in the kitchen." Young people living in Erie, she says, shows potential in the city, adding: "For many of us, the decision to stay is more than affordability or job security – it's a shared vision of a livable, thriving city."
Executive Vice-President-Business Operations, Lake Erie Speedway
Once he arrived in Erie by way of I-90 from Elyria, Ohio, Branden never looked back. Because really, he didn't have a the chance to. The internship he landed at Lake Erie Speedway while completing his degree in business management and sports administration at Mercyhurst University turned into a job that took him to the apex of day-to-day operations in local racing. Since then, Lake Erie Speedway has become an important community asset offering affordable family entertainment. Branden says the size of the community, as well as the energy and vision of young leaders and entrepreneurs, makes Erie a city worth investing in. "Erie has the benefit of a 'big city feel,'" he observes, "and I believe that the energy, creativity, and passion of the young talent will allow Erie the opportunity to continue to evolve, grow, and remain an exceptional place."
Emily Mosco Merski '04, 32
Attorney, Vendetti & Vendetti
As an assistant public defender and practicing lawyer at the Vendetti & Vendetti law firm, Emily knows how to dance around a courtroom.  But she's also light enough on her feet to co-chair the 50th Annual Barber Christmas Ball and participate in the Celebrity Dance Competition for Catholic Charities. And all the while she is swaying to the music, she's helping out as the Vice-President of the Mercyhurst University Alumni Board of Directors, a member of the Mercyhurst Prep Alumni Board of Governors, a member of the Mercy Center of the Arts Board of Trustees, and a member of the Mercyhurst Institute for Arts and Culture. She's also on the Young Erie Professionals Board of Directors, the Neighborhood Art House Development Committee, the Catholic Charities Ball Planning Committee, and was the 2014 Chairperson for the Perry Square Alliance Party Off the Park. It takes some pretty fancy footwork to do all that. If anyone can get Erie up out of it's seat and moving to the music, it's Emily.
Michael Miele '07, 30
Director of Instrumental Music, Mercyhurst Prep
This Erie native likes to joke that he's been on the same city block since 1999, when he started his freshman year of schooling at Mercyhurst Prep. Four years later, he "walked down the hill" to start college studies at Mercyhurst University, then, in 2007, walked back up to become a teacher at MPS. To him, teaching's as much about preparing tomorrow's community leaders as it is showing kids how to perform. That work's about fostering creativity and providing outlets for all that local arts have to offer. That's his part, among other native young professionals, in erasing the worn-out notion that 'there's nothing to do in Erie.' "I think it says a lot about our city that myself and others have chosen to continue to make Erie our home," he says. "It's nice to see my generation realize we play an integral role in sustaining what was true all along: Erie is a vibrant community with something for everyone.
Ann Tredway '00, 38
President/Chief Development Officer, Hamot Health Foundation
Some of Ann Tredway's friends and colleagues were surprised when she decided to move to Erie after spending 12 years in Washington, D.C., but the decision was an easy one for her."I knew that I wanted to return to Erie," says the New Bethlehem, Pa. native. "Here you can truly be a part of a community and that's really special. I have met so many talented and passionate young professionals, and we all have a similar story." The Mercyhurst College graduate has made an impact in Erie as the president and chief development officer of the Hamot Health Foundation, where she oversees the operations of the organization and provides leadership for all philanthropic programs. In addition to her success in the workplace, she also met her husband Tom just two months after returning to The Flagship City. "I could have lived in Chicago, Boston, or D.C., but I chose Erie because I can make a difference here and I love it."
*All quotes and images taken from the Erie Reader
---
I'm a bullet point-type of guy. Whether reading a business report or the Bible, I like when information is condensed into the key takeaways and messages I need.
That's one reason why the Beatitudes, in Matthew's Gospel, have long been one of my favorite biblical passages. The Beatitudes, the opening of Jesus' famous "Sermon on the Mount," are not only a brilliant "bullet point" summary of how to live a blessed life, but they describe mercy – and living mercifully – to a tee.
The fifth Beatitude states, "Blessed are the merciful, for they will be shown mercy" (Matthew 5:7).
I listened to someone recently say "Mercy is when you withhold something from someone even though they deserve it – like not giving a fast driver a speeding ticket." I couldn't disagree more.
To be merciful is to show forgiveness and compassion to those in need in a way that doesn't hold back something, but provides something. Jesus frequently spoke of this trait. In the Lord's Prayer, He says, "Forgive us our sins, as we also have forgiven those who sin against us" (Matthew 6:12). In Matthew 9:13 Jesus instructs the Pharisees, "Go and learn what this means: 'I desire mercy, not sacrifice.'
Living with mercy in our hearts means to live proactively in the spirit of assuming good intent in others, openly forgiving others, and realizing that human interactions are a series of "deposits" and "withdrawls." To live mercifully is to seek opportunities to make emotional and mental deposits in our peers, not to look for ways to withdraw their assets and drain their hearts.
As Mercyhurst University celebrates Mercy Week 2015, I wish all Lakers everywhere a year filled with overwhelming joy. Carpe Diem! Now, I've got some bullet points at work to get back to.
–Scott Koskoski '00
---